LACE UP SHOES, ANKLE BOOTS

CENTIMETERS
 (from - to)

 
INCHES
(from - to)

 
 SIZE man/woman

22,4 - 22,6
8.81 - 8.89
35
22,7 - 22,9
8.93 - 9.01
35,5
23 - 23,3
9.05 - 9.17
36
23,4 - 23,6
9.21 - 9.29
36,5
23,7 - 23,9
9.33 - 9.40
37
24 - 24,2
9.44 - 9.52
37,5
24,3 - 24,6
9.56 - 9.68
38
24,7 - 24,9
9.72 - 9.80
38,5
25 - 25,3
9.84 - 9.96
39
25,4 - 25,6
10.00 - 10.07
39,5
25,7 - 25,9
10.11 - 10.19
40
26 - 26,3
10.23 - 10.35
40,5
26,4 - 26,6
10.39 - 10.47
41
26,7 - 26,9
10.51 - 10.59
41,5
27 - 27,3
10.63 - 10.74
42
27,4 - 27,6
10.78 - 10.86
42,5
27,7 - 27,9
10.90 - 10.98
43
28 - 28,3
11.02 - 11.14
43,5
28,4 - 28,6
11.18 - 11.26
44
28,7 - 28,9
11.29 - 11.37
44,5
29 - 29,3
11.41 - 11.53
45
29,4 - 29,6
11.57 - 11.65
45,5
29,7 - 29,9
11.69 - 11.77
46
30 - 30,3
11.81 - 11.92
46,5
30,4 - 30,6
11.96 - 12.04
47
30,7 - 30,9
12.08 - 12.16
47,5
31 - 31,3
12.20 - 12.32
48


SNEAKERS

 CENTIMETERS
(from - to)

 
INCHES 
(from - to)

 
 SIZE man/woman

22,4 - 22,6
8.81 - 8.89
35
22,7 - 23,3
8.93 - 9.17
36
23,4 - 23,9
9.21 - 9.40
37
24 - 24,6
9.44 - 9.68
38
24,7 - 25,3
9.72 - 9.96
39
25,4 - 25,9
10.00 - 10.19
40
26 - 26,6
10.23 - 10.47
41
26,7 - 27,3
10.51 - 10.74
42
27,4 - 27,9
10.78 - 10.98
43
28 - 28,6
11.02 - 11.26
44
28,7 - 29,3
11.29 - 11.53
45
29,4 - 29,9
11.57 - 11.77
46


MOCASSINS, OPEN SHOES, SANDALS

 CENTIMETERS 
(from - to)

 
INCHES 
(from - to)

 
 SIZE man/woman

22,7 - 22,9
8.93 - 9.01
35
23 - 23,3
9.05 - 9.17
35,5
23,4 - 23,6
9.21 - 9.29
36
23,7 - 23,9
9.33 - 9.40
36,5
24 - 24,2
9.44 - 9.52
37
24,3 - 24,6
9.56 - 9.68
37,5
24,7 - 24,9
9.72 - 9.80
38
25 - 25,3
9.84 - 9.96
38,5
25,4 - 25,6
10.00 - 10.07
39
25,7 - 25,9
10.11 - 10.19
39,5
26 - 26,3
10.23 - 10.35
40
26,4 - 26,6
10.39 - 10.47
40,5
26,7 - 26,9
10.51 - 10.59
41
27 - 27,3
10.63 - 10.74
41,5
27,4 - 27,6
10.78 - 10.86
42
27,7 - 27,9
10.90 - 10.98
42,5
28 - 28,3
11.02 - 11.14
43
28,4 - 28,6
11.18 - 11.26
43,5
28,7 - 28,9
11.29 - 11.37
44
29 - 29,3
11.41 - 11.53
44,5
29,4 - 29,6
11.57 - 11.65
45
29,7 - 29,9
11.69 - 11.77
45,5
30 - 30,3
11.81 - 11.92
46
30,4 - 30,6
11.96 - 12.04
46,5
30,7 - 30,9
12.08 - 12.16
47
31 - 31,3
12.20 - 12.32
47,5
31,4 - 31,6
12.36 - 12.44
48
---
Nota: If you do not know your size, you can measure both your feet wearing the socks you normally use: to make a measurement, just follow the instructions below and order the size of the larger foot.
Find the right size in just a few seconds
Step 1
Put a sheet of A4 paper close to a wall and put your foot above the heel snug to the wall.
Step 2
With a pencil at 90° to the track a straight line at the end of the great toe.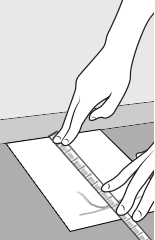 Step 3
With your meter measure the feet and choose the measure longer, then checks the table below.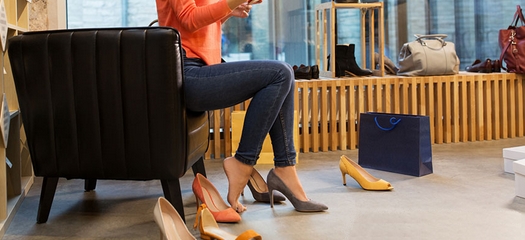 Have you measured your feet, but you still have doubts about the fit? Use the chat boxes below or write to info@jacobuscalzature.it to get more details on the model that you want to purchase.